Persian ethnic and tribal handicrafts are embellished with patterns, vibrant colors, and bold textures. Now a days, Persian soulful crafts fit in new home decor styles and make them unique.
Persian ethnic and tribal handicrafts are embellished with patterns, vibrant colors, and bold textures. These features did not encourage modern home decor designers to use these crafts in their designs in the past.
Nowadays, there is a strong tendency to ignore modern interior design principles among home decor designers. they prefer to design freely. This movement led to the development of new home decor trends. These new trends emphasize colors, textures, and patterns. There is also a focus on traditional textiles, rugs and handmade crafts in these home decor styles. Indian, Moroccan, and African crafts are the most sold, while Persian crafts are still unknown despite their quality and historical background.
Persian handicrafts have characteristics that make them distinct from other countries. Some of these characteristics root in the artists' culture and lifestyle.
The uniqueness of each ethnic Persian handicraft
Handicrafts are mass-produced in many countries for more sales. There are usually several workers in workshops. Each of these workers makes or embellishes a part of the product, or they all make many of one product with one specific design. These handicrafts are produced by hand but they are repetitive.
In Iran however, most ethnic crafts are made by different independent artisans. They have different designs, colors, and characteristics since the artisans choose motifs and designs.
In the case of nomadic and tribal Persian handicrafts, it is impossible to find two items similar to each other. Because there are no pre-planned designs for making these products and artists are inspired by their imaginations and thoughts to design. They design while making the product, and it is even impossible for them to make the same item next time.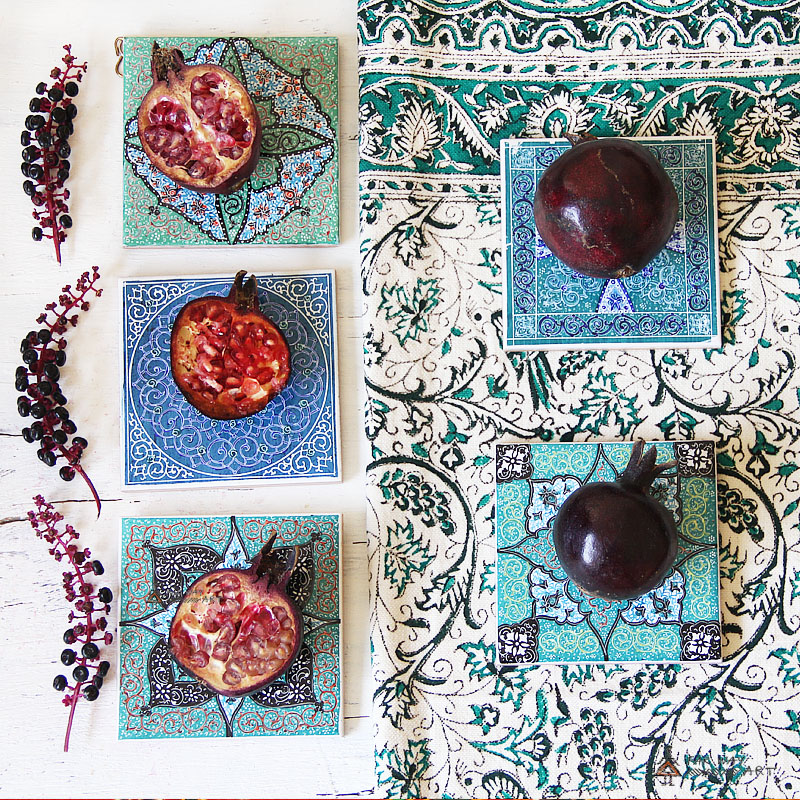 Persian handicrafts are soulful
After years of living in modern spaces, we feel the need for soulful objects and spaces. Colors and textures have always existed in nature, and we need them in our lives. Ignoring our senses disconnected us from our inner feelings. Iranians believe that ethnic crafts have a soul. Persian artist believes that God left a part of himself in his creatures when he created them. It is the same when an artist makes his artwork.
In Persian tribal and nomadic art, the artisan manifests her thoughts, feelings, dreams, happiness, and sadness through her art. It is her love and passion that we bring to our homes.
Colors in Persian crafts
You can see a combination of beautiful and reckless colors in ethnic Persian crafts. Each color has a symbolic meaning. In each category of the Iranian handicrafts, using a few specific colors determines the originality of the work. Not academically educated, Persian tribal and nomadic artisans combine different colors with no doubts. Colors are their tool for showing their feelings, and they do not restrict themselves in this regard.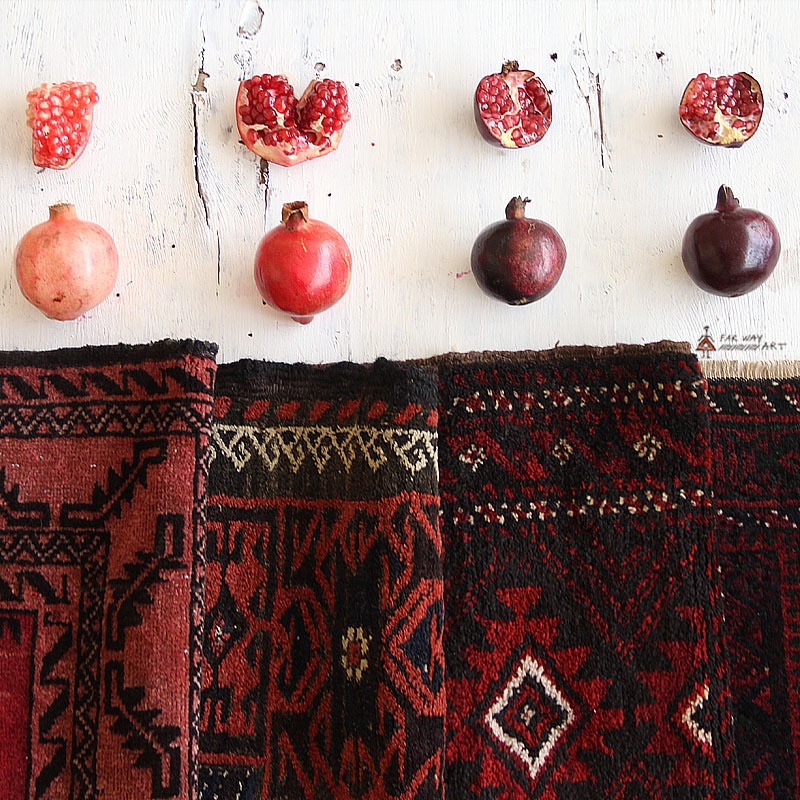 Boldness in Persian crafts
Persian tribal and nomadic artisans do not have academic degrees. Most of them have only studied in elementary school. Therefore, they do not know about the academic principles of the choices of colors and designs. They carry the art that roots in history and culture and is passed from one generation to another.
Most of them have only studied in elementary school. Therefore, they do not know about the academic principles of the choices of colors and designs. They carry the art that roots in history and culture and is passed from one generation to another.
They have a great teacher except for their parents, and it is nature. These artisans live in pristine nature that is their source of inspiration. Therefore, they have not learned to be stereotyped. Nature gives them courage in choosing colors and designs while there are no mental obstacles to restrict them. They use opposite colors next to each other in their work or leave its surface blank with no doubts. Their mind is not affected by institutional education and is not touched by globalization or modernization.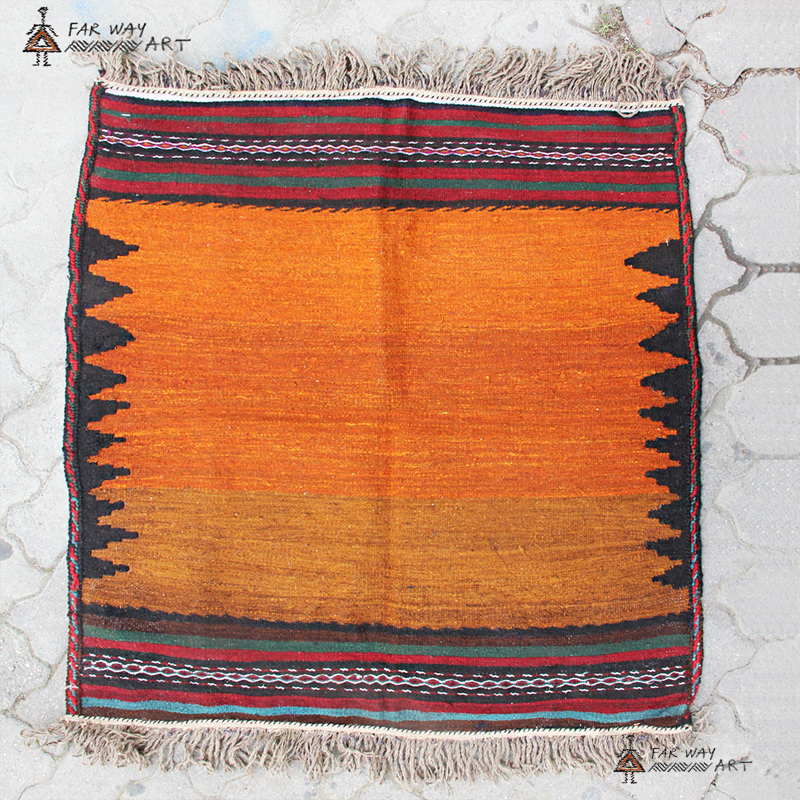 Modesty
Have you ever seen a name or a signature of a Persian tribal or nomadic artist on her work? If there is a signature, it only tells the finish date. Almost all Persian tribal and nomadic women are great artists, but Their art is not something to be found in the galleries, it is rather something that has an application in their life. Girls make beautiful handicrafts for the time they marry and move to their own home, and married women make such products for decorating their houses. They rarely sell their products to earn money. Usually, when the artist passes away, her children who moved to the cities, sell her handicrafts which no longer have an application in their modern life.
Persian ethnic artisans believe that God is the only creature. They consider themselves as someone who reveals god's created beauty, not its owner.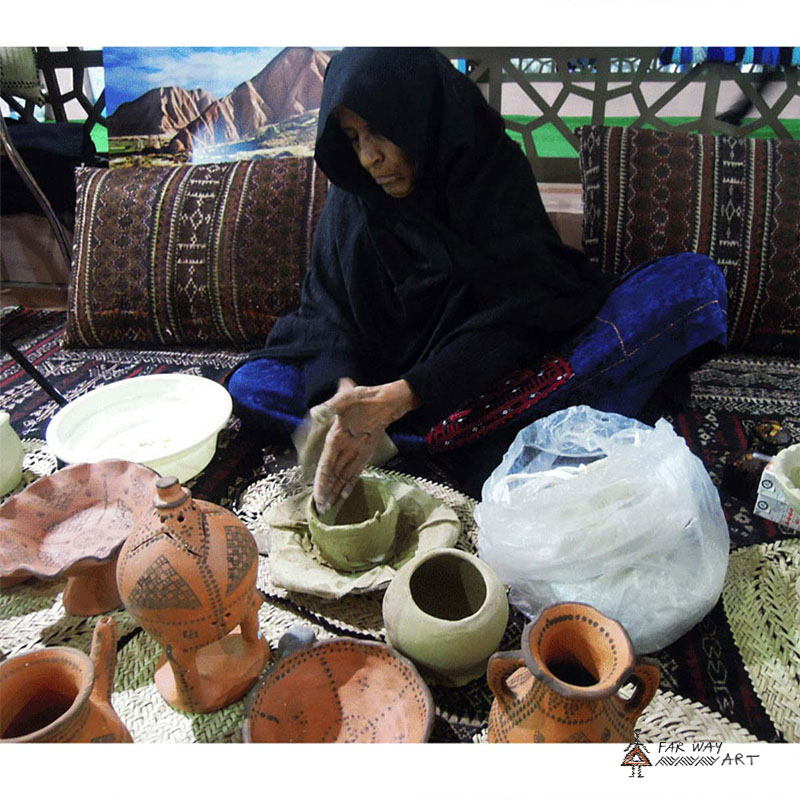 These characteristics make Persian tribal and nomadic products perfect for the following home decor styles. They fit in the following home decor styles and turn them into unique designs.
The boho-chic home decor style
Our choices depend on how much we love those products, what memories do we have of them, and what feelings do we get from them.
There are no specific rules in the Boho-chic style to limit us. In this style, we can use whatever object that gives us good energy and feeling. These friendly objects can be valuable. They might have a history and story behind them. Usually, their color and texture are what make them unique.
A boho-chic decorated place gives the visitor a sense of comfort and excitement. Modern and minimal spaces are not as friendly as boho-chic spaces.
These Persian tribal crafts add value to boho-chic spaces. These soulful products carry a rich culture. Their patterns and colors, inspired by nature, are eye-catching and unique. They are authentic and unique, and they give these two characteristics to any space that they are applied in.
The tribal home decor style
This style is all about handmade tribal products and their attributes. These products are primitive and original. Tribal art is associated with ideas and beliefs that are related to religious practices, rituals, and nature.
Tribal people belong to social groups with the same beliefs and lifestyle that is held for centuries and seems primitive to modern human. They also have a close connection to nature, and they respect it.
Have you ever felt you can connect to your deep feelings by touching or looking at a tribal artwork?
We usually forget about these feelings since we are living in the modern world. In tribal products, minimal and symbolic designs, are used. The artist is inspired by nature and its mystical energies for creating such artworks. Tribal people use natural materials like wood, clay, wool, and dyes for making crafts. All this makes tribal crafts simple, valuable, and mystical.
Persian art has a long history, which dates back to ancient times. In some areas on Iran, ethnic products' making practices are intact. These practices date back to thousands of years ago. Therefore, these crafts are original and primitive, while there is a rich world of art and culture behind them.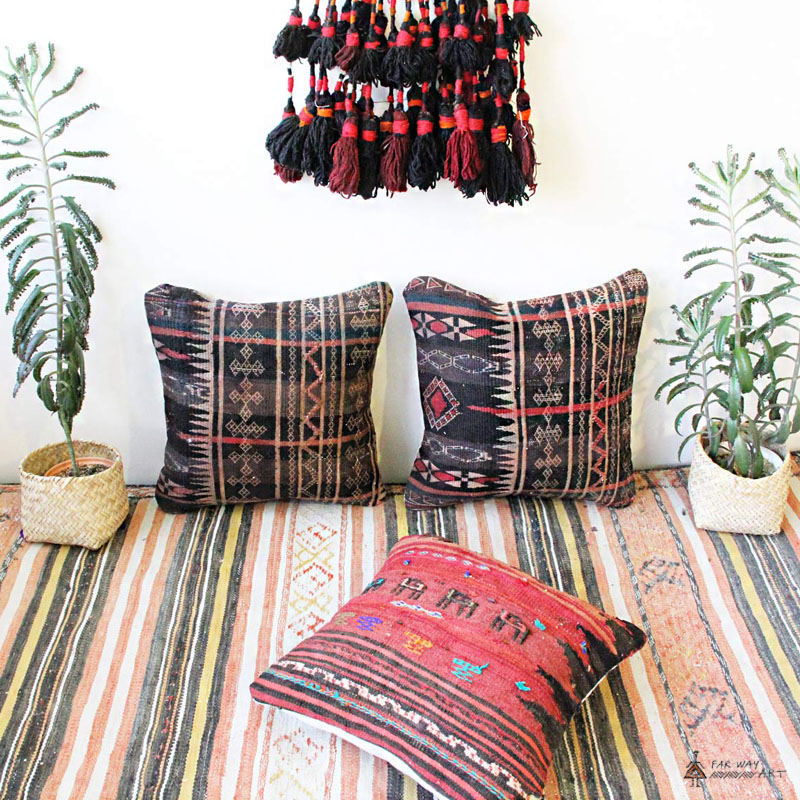 The eclectic home decor style
Eclectic home décor style does not follow any principle of a home decor style. Instead, it is a combination of elements and products taken from different styles.
There is no limitation in using heterogeneous elements in this style. Usually, all handmade and ethnic crafts in this style stand out in the space.
It is fascinating that disparate elements with different textures and colors unify the space. We can see different elements taken from different eras of interior design in this style. Why ignoring Persian ethnic products? These soulful and valuable crafts embellished with patterns, textures, and colors stand out in the space and make it unique.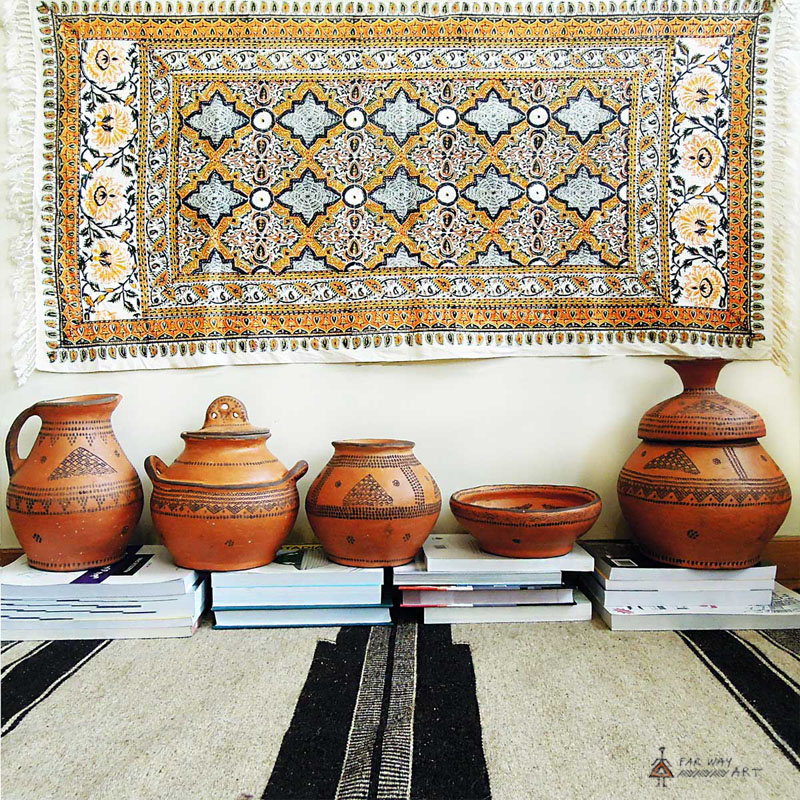 The rustic home decor style
Rustic style is in harmony with nature. It is a moderate and humble style that allows us to feel comfortable. Rustic style brings nature to our life, applying elements like raw unfinished wood, stone, and textured textile. Usually, in this style, materials are not fresh or embellished. They might be old and antiquated. It shows the value they earned over time.
You can use vintage and antique Persian home decor products to give a touch of uniqueness to your rustic space and keep it unified. In this case, it is better to change our opinion about antique products as we usually think of them as luxury objects. We can consider them as handmade crafts with a history and story behind them. Objects that like all the other elements used in this style, lose their freshness over time, but they gain more value and beauty. In this case, you can use just a few vintage or antique products and emphasize their value.