Enameling or Minakari is a method of painting and ornamenting the surface of metals such as gold, silver and copper by fusing enameled colors over it. Mina is the feminine form of Minoo in Persian, meaning heaven.
The art of hand painting and enameling, Meenakari
Enameling or Meenakari is a method of painting and ornamenting the surface of metals such as gold, silver, and copper by fusing enameled colors over it. Mina is the feminine form of Meenoo in Persian, meaning heaven.
Mina is formed as the result of heating a combination of metal oxides and types of salt between 750 and 850 centigrade.
The most traditional and common method used in Isfahan is to paint on clear enamel. First, the coppersmith shapes the object into the intended form. Then, the Meenakari artist colors the surface with white enamel. Enameling is done 3 to 4 times, each time in a kiln with 700-degree heat to fix the color.
After the white colored object is painted, the colors are fixed in a 400 to 500-degree kiln. Today chemical dyes are used for painting, while in the past natural and mineral dyes were used. Clarity of Mina is because of the tin oxide.
Today Meena is used in decorative containers, hanging mandala plates and accessories as well as jewelry.
Meenakari (Enameled) production's care instruction
Since Mina is covered with clear enamel, washing it with hot water and sponge does not damage the container. But, scratching with a sharp object or hitting can make the colors of Mina to detach. Extreme temperature could also burn the colors.
Persian Meenakari motifs
Meenakari designs are retrieved from Persian miniature painting motifs. The most repeated designs in Meenakari are:
Arabesque motif
Arabesque motifs are curved lines representing ivy and flowers.
Khataee

motif
Khataee is one of the basic designs of Iranian decorative arts used in carpets, tiles, and Miniature paintings and is a combination of a tree with flowers, leaves, and buds.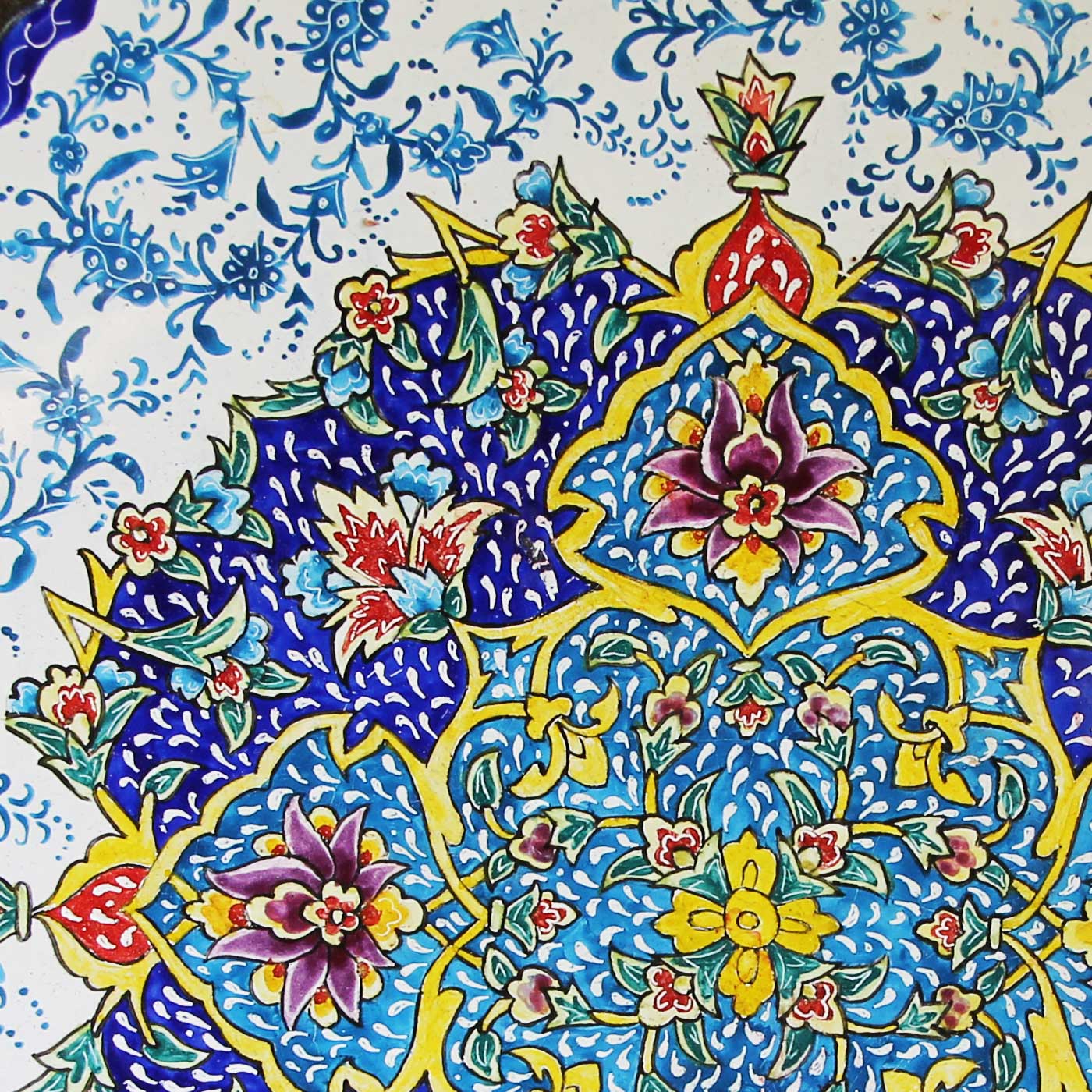 Bird and flower motifs
This design is a combination of flowers and birds flying around them.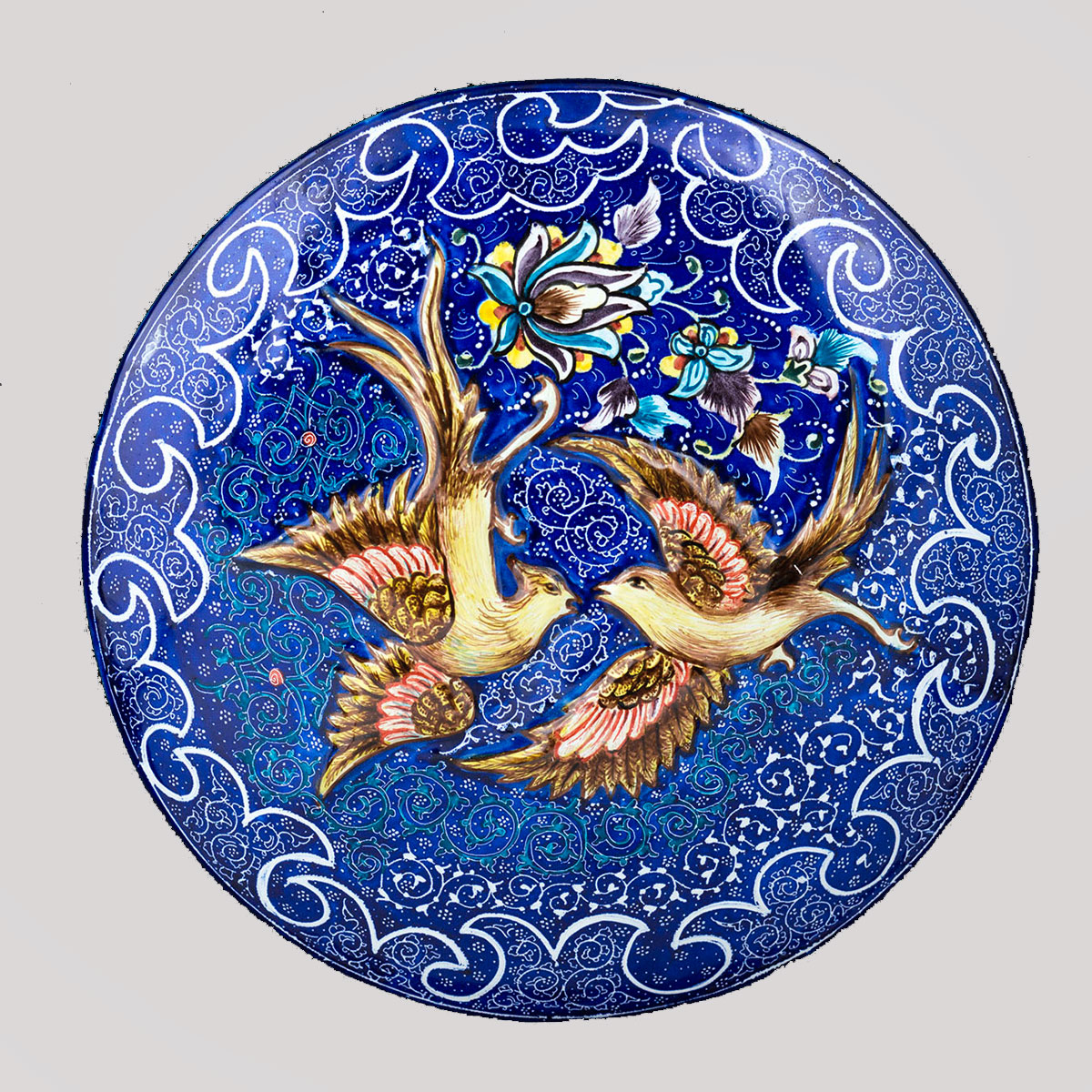 How to distinguish a high-quality Meenakari?
Distinguishing a good Meenakari might be a difficult job for first-time buyers. But you can consider the following factors when buying a Meenakari product to avoid buying a low-quality product.
Being light-weighted
Meenakari product should not be light comparing to its size. One reason is that Meenakari containers' material is copper, and high-quality copper is heavier than low-quality copper. Another reason is that a container that is relatively lightweight may deform over time.
Being smooth and polished
Touch your favorite Meenakari product's surface. It should be smooth and polished. Otherwise, it has either been painted with low-quality colors or burned in the kiln.
Intricacy of motifs
The painting
The more intricate and complicated the motifs are the more expensive is the Meenakari product. The painted ornaments on the container should also be accurate and cloudless.
The colors used in painting Mina containers
Gold powder is one of the ingredients of red based Meenakari paints. Therefore, containers embellished with these colors are more expensive than others.
The originality of motifs
The motifs should have Persian originality and be preserved in coloring and original design with the utmost care.
Meenakari products in home decor
Meenakari art applied in Persian interiors since centuries ago has mostly been considered as a luxury art for decorating Persian home decors. Persian Meenakari has always attracted the attention of the global market in the field of luxury interior design. But it has not been introduced to the world of modern home décor and art properly.
Original Persian Meenakari comes in dark blue color in most cases, but artists have introduced new colors like orange, black, pink and green to it these days. It helps this art to fit into modern home decors styles better.
Persian Meenakari mandala plates are the most beautiful mandala wall hangings. Decorative Meenakari dishware are very famous for their intricate and miniature paintings. Meenakari tiles which have Persian mandala design or Persian other original motifs make beautiful surface decor or wall decor.