5 types of exotic ethnic hand embroideries that you can use for your home decor to make it unique in any style.
Pateh hand embroidery
Pateh is a traditional Persian textile made in kerman city of Iran and is an important part of the culture of this area. Almost all women in Kerman knew how to sew Pateh in the past. Pateh sewing has its own techniques and almost all the surface of the fabric is sewn. Pateh mean unraveled rough wool which is used for making the threads and fabrics as raw materials for Pateh embroidery.
In the past, the design plan was printed on the fabric by hands, but nowadays it is done by machines. The more intricate this fabric is, the more expensive it is. Some of Peteh textiles are embossed. These embossed embroideries are the most difficult ones to make. The sewing of this textile is time-taking and it is a difficult job. Sometimes making a Pateh hand embroidery takes months.
Most designs of Pateh's include a Shamseh motif which is a symbol of the sun in the center and four cypress tree patterns around it. Cypress tree is the symbol of persistence and stability in life. Almost all these embroideries are bordered with flowers and plants motifs.
In the past, Pateh was used as curtains, tablecloths and bundles for cloths in Persian aristocratic homes. Today it makes wonderful unique wall hangings, tablecloths or pillows in modern home decors.
Pateh hand embroidery pillow cover
Pateh hand embroidery mandala tapestry
Baloch hand embroidery
The historic art of Baloch hand embroidery is one of the finest among other types of needlework. Baloch embroidery is an exquisite art and a time-taking work done by almost every woman and girl in Balochistan province in the south-east of Iran and some other countries like Pakistan and Afghanistan. Baloch hand embroidery is a very important part of Balochi culture. There is not much information about the history of this art. In discovered pottery of the fifth and sixth millennia BC, there are geometric shapes similar to the motifs of the Baloch women. Therefore, some researchers believe that Baloch hand embroidery dates back to a thousand years ago.
A specific type of fabric is used in Baloch embroidery which has a countable wrap and weft. There are designers who print motifson the fabric which are chosen by the artists. This work is done by hand block printing technique. Then the borders of the design are sewn by the artists. Usually, each piece of Baloch embroidery is done by several women. Each part of embroidery is done by one of these artists. For example, while an artist sews borders of a piece of embroidery, the other artist fills the designs of another piece. Women and girls sit together and sew. Their daughters sit next to them and learn sewing. This art passes from one generation to another.
Choosing colors is definitely the artist's job and it is important to choose threads' colors in order to fit the color of the fabric.
Main designs of Baloch embroideries are geometric designs, sun, flowers, and animals' designs. The price of these pieces depends on how intricate the embroidery is done on the fabric and how much of the fabric surface is embroidered.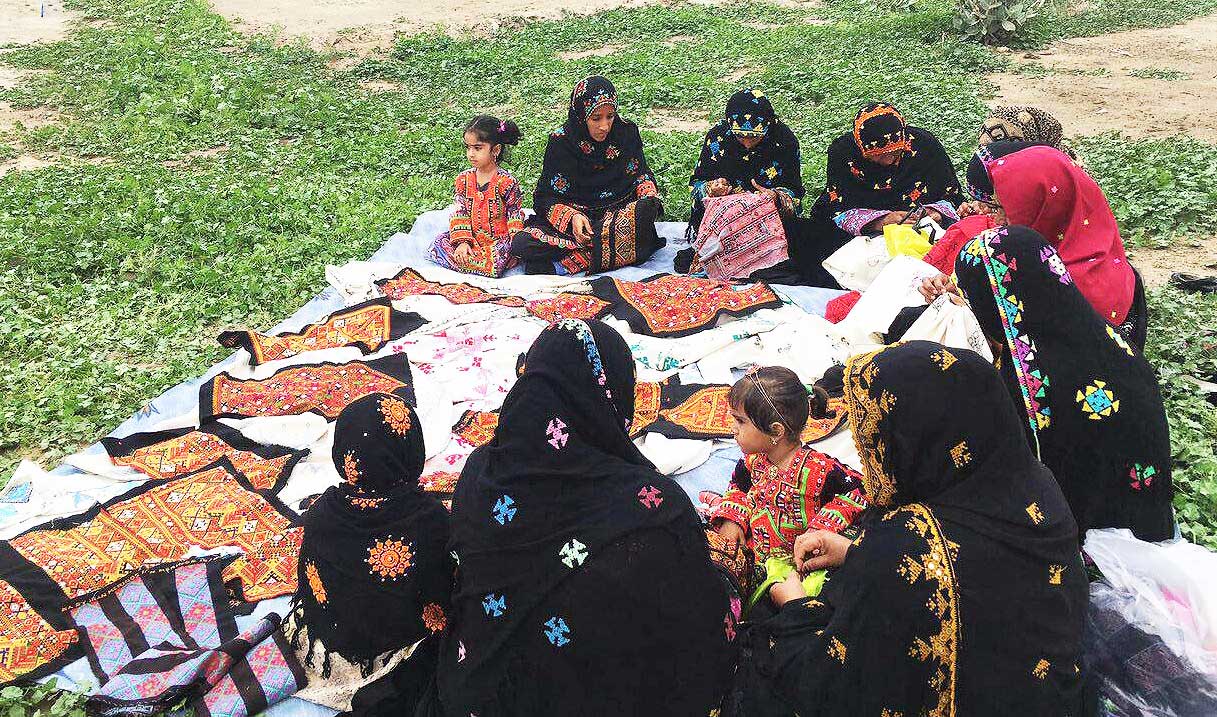 Baloch women sewing Baloch hand embroideries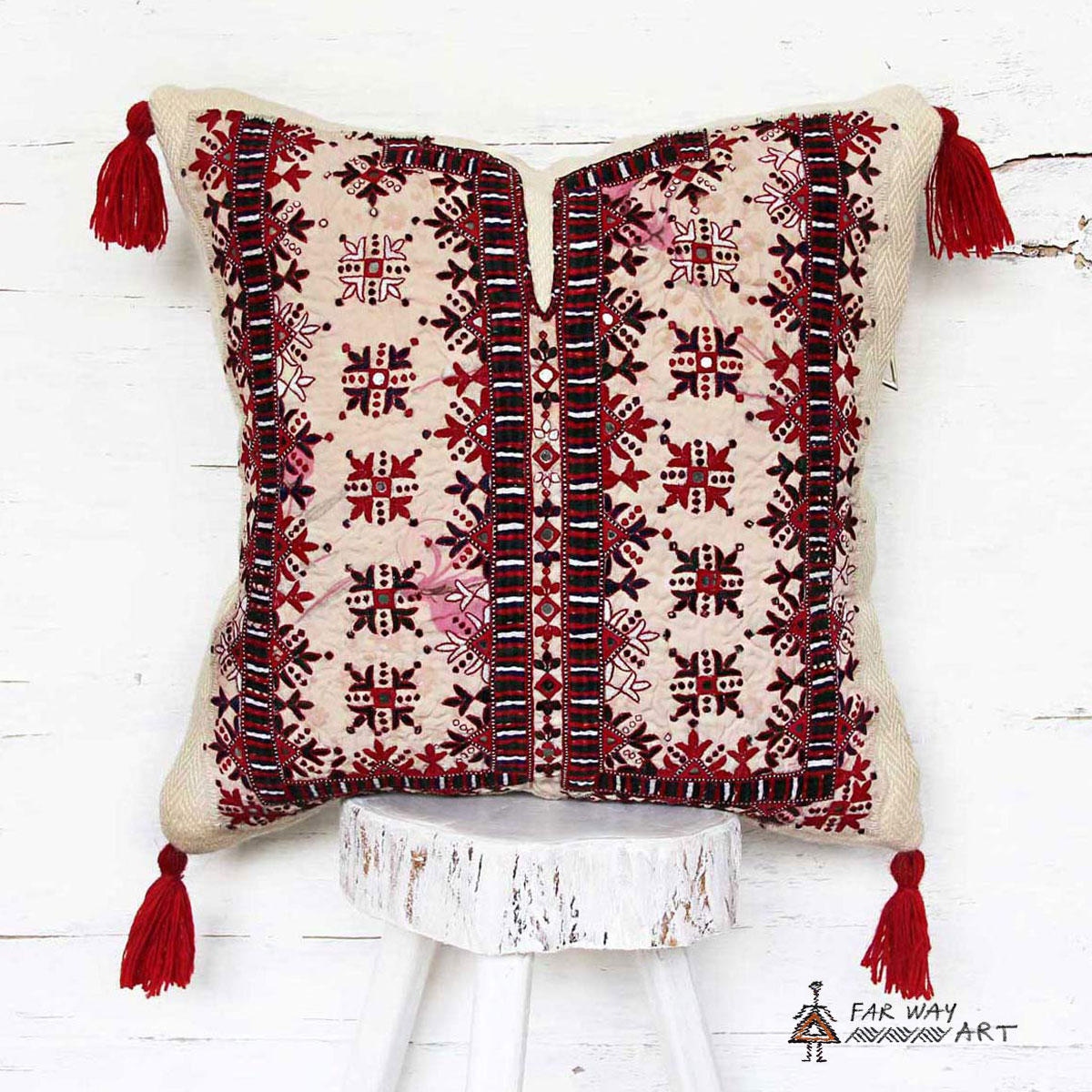 Baloch hand embroidery pillow cover
Mamaghan-doozi embroidery
A few kilometers from Tabriz city in the North-east of Iran there is a village called Mamaghan. A common type of embroidery in this village has taken its name, Mamaghan. Mamaghan doozi means sewing Mamaghan embroidery.
Mamaghan embroidery was done using silk threads, but nowadays it is done by viscose threads to make it affordable for everyone.
In the past, this type of embroidery was used to make small hats for men. Today it is used in home decors as a tablecloth or pillow cover.
Six point or eight point stars are the main designs of Mamaghan embroidery. These designs root in the history of Persian art which dates back to Achaemenid Period in 2500 B.C. Another common design in Mamaghan-Doozi is plants design like cypress tree motif. The artists choose the design. These designs are mental which they learn from their mothers.
Mamaghan-Doozi hand embroidery wall art / tablecloth
Golabatoon-do0zi hand embroidery
Golabatoon-doozi is a kind of tribal hand embroidery specific to southern religions of Iran, especially Hormozgan province, has been handed down from person to person. If you go to any home in Hormozgan knock the door and ask about this art, there will definitely be someone who knows this art. The artists carefully and delicately stretch the fabric onto rubber large traditional embroidery hoops and then draw the design they want to sew on to the fabric. They use special yarns called "Golabatoon" that come in many vibrant and vivid colors and start tracing their drawing patterns. Little by little the real beauty and complexity of shapes roughly outlined by lines comes to life. They use a hook and every time their hook goes in the fabric it intertwines with another thin string they hold in their other hand underneath. It is these loosely tied knots that keep the design fixed on the fabric.
Some of Golabatoon-Doozi fabrics are trousers legs that are decorated with traditional designs that are completed by putting together different sections prepared separately. In the old days Golabatoon-Doozi was done on silk fabrics with gold and silver coated thread, but were offered at a limited and small number. Even so if someone wants to have that same old and traditional thing, it can be done by local artists.
Golabatoon designs are not seen just on trousers rather they are worked on a number of clothing items and accessories. For example, Neghab or Burka which is something like a masquerade mask. It is half a mask that covers the eyes and the nose has long been a part of daywear of southern tribal women of Iran and is decorated with Golabatoon embroidery patterns as well. The Neqhab however, is more than just an accessory. It is neither a universal costume nor compulsory. Rather in southern tribal culture it represents modesty. Another example of Golabatoon design that shows just how much it intertwines with these tribal people's lives can be seen in their Henna designs. Henna designs are the same flower and leaf patterns used in their cloths and trousers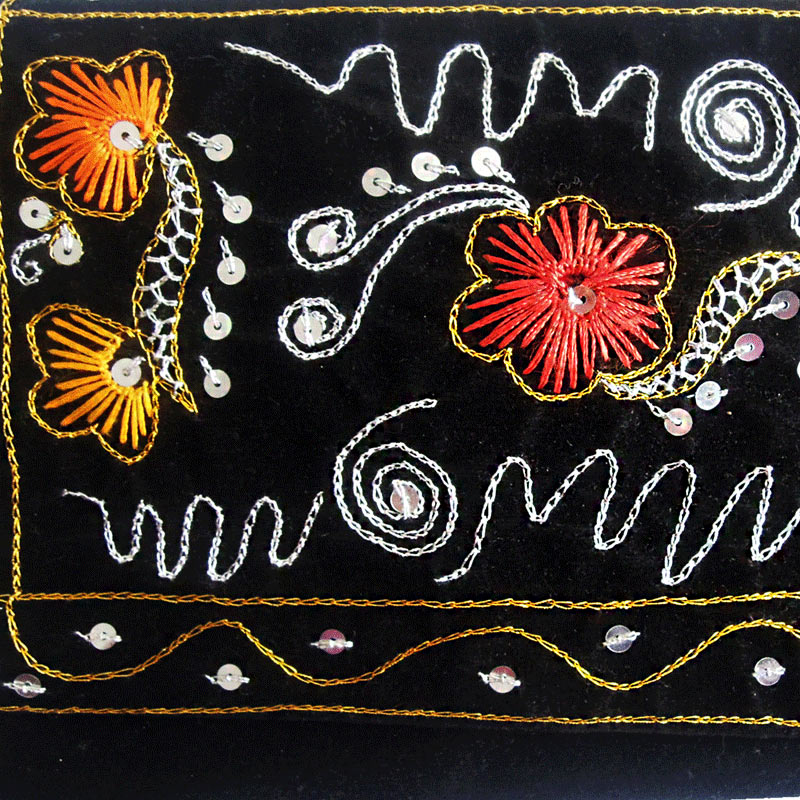 Golabatoon-Doozi hand embroidery
Golabatoon-Doozi hand embroidery
Sermeh-do0zi hand embroidery
Sermeh duzi is a type of Persian delicate hand embroidery artwork. Creating on fabric Sermeh Duzi is a time taking and elaborate work. It requires its own special tools and pieces like different types of thin wire, embroidery beats, pearls and fabrics like velvet and Termeh.
First, silk is attached to the back of the fabric then the design is transferred with carbon paper. After that, the design is first stitched all over with a white thread, then the fabric is attached to the hoop and the main work begins.
The design is covered with different types of stitches and decorated with other glittery materials. Sermeh Doozi has a long history in Iran. This art dates back to more than 3000 years ago when it decorated and adorned the clothing of kings and royal family. Back then very thin gold and silver wires were stitched on valuable fabrics. Therefore, it was an art that basically belonged to the wealthy. In this art designs are mostly inspired by Persian ancient motifs which have their own special meaning and are usually used as symbolic forms. Nature is also a source of inspiration for the Sermeh-Doozani artist. They use the shapes of flowers, birds and trees to complete their designs. Sermeh-Duzi which was once a very expensive artwork, has turned into a slightly cheaper craft.
Today, gold and silver threads and wires are not so common anymore and they are replaced with cheaper materials so people have the opportunity to buy them and use them in their homes. Nowadays, this artwork is used to adorn tablecloths, curtains, prayer rugs and decorative pillows.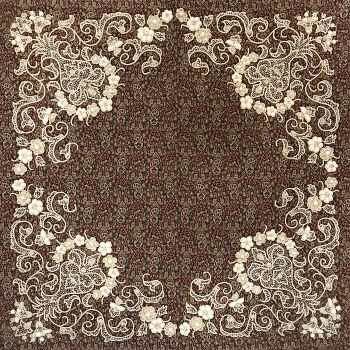 Sermeh-Doozi hand embroidery